| | |
| --- | --- |
| Posted by onthegofitness on October 18, 2009 at 6:37 PM | |
As many of you know I'm a Mom and Personal trainer. So I am always driving from one place to another, and many times I am not able to be at home at mealtime. As I was driving back from Calgary this weekend I thought about what I do to ensure that I stayed healthy even when travelling away from home.
1. PREPARE
When you are packing your clothes don't forget to bring some healthy snacks with you.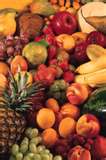 Home baked low fat, high fibre muffins
Carrot & celery sticks
Whole grain granola bars
All of these things are easily eaten in the car not only will they save you money by bringing them from home but it will also save you from making a unhealthy choice when you stop to refuel.
2. Hydrate
Even though you are on a road trip does not mean you should throw all your healthy lifestyle choices out the window. Remember to drink plenty of water as not to get dehydrated and to keep your joints lubricated while they maybe under stress from long car rides. Don't overdo it or you may need frequent pitstops.
3. Make wise choices
When we are on vacation, we tend to believe that we can eat and drink whatever we want with no repercussions. In fact some of us try to lose weight and get in shape before a vacation (especially when going somewhere warm) only to get there and enjoy high fat foods and multiple alcoholic beverages. Don't get me wrong I'm not saying stop having fun but just remember all your hard work and keep your indulgences at a moderate level.
When eating in a restaurant go for lean meats, vegetables, stay away from the bread basket it's just filler and full of calories. If you must have the dessert share with friends you all get a taste but not all the fat.
No time to sit down and eat?
Need a Food Fast? Don't fall victim to the regular burger and fries! Try a Subway sandwich, Tim Horton's also has some great low fat sandwiches or a wrap or pit shop is usually a good option also never forget that some of your favoritre smoothie shops now have wraps, flatbreads and Paninis for a healthier version of fast food.