| | |
| --- | --- |
| Posted by onthegofitness on March 29, 2010 at 10:15 PM | |
March edition
Spring is officially here! Although the view out my kitchen window this morning would tell a different story.
In Alberta from October to March we are in what is called a "No vitamin D season" our days are so short, usually cloudy and void of much needed (Vitamin D rich) sunshine. Vitamin D in essential for bone growth, balancing mineral levels in our bodies and is needed to properly absorb calcium, which helps strengthen our bones. So now that spring is here try going outside whenever possible to exercise and enjoy the sunshine. We have only a few months a year with warm weather so let's use every day to our full advantage. A few of MY favourite outdoor activities are
Walking my dog, taking adventure walks with my kids, playing soccer or tag in the backyard, riding my bicycle, rollerblading and hiking to name a few.
This is where I segway into telling you about my newest passion
RUNNING! It is a great form of cardiovascular exercise and for someone like me who is super competitive;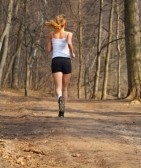 I am always trying to beat my best distance or my best time. Now you might say "running is just not for me" well there was a time that I also felt this way but I started training with a "learn to run" program and now I'm training for my first HALF MARATHON this August. Not to toot my own horn but this will be the first time in many years that I will participate in several local running events in 1 year, the first I will be jogging on Mother's Day with my mom and my aunt and another with a friend of mine. So I'm training hard.
Besides trying a new activity to bring variety to your regular exercise regime you can also change the location of your favourite activity to bring about a whole new atmosphere and freshness to the activity. Try doing yoga in a park inside of in the gym, ride an actual bike instead of a stationary one, walk or run outdoors inside of on a treadmill, take in the air and the atmosphere, you might find a new love for exercise. Keeping your exercise fresh and new will help you adhere to your new workout regime and you will stay active longer if you enjoy the activity.