So if you haven't heard about the TRX 40/40 Challenge,  I'll enlighten you.
 The TRX is a suspension training system that looks like two canvas straps, that you can attach to a door way, ceiling or pretty much any pole or tree anchored to the ground outside.
The challenge is to video yourself performing 2 exercises ( the Atomic pushup /Low row) and see how many of each exercise you can do without rest, trying of course for the ultimate goal of 40/40. 
Note 1 min of rest inbetween exercises
They say If you can do 20/20 you are top 25%, do all 40/40 and you are top 5%.
I gave this challenge an honest effort to see where I was at. I tell you honestly I could not complete all 40 of either, and being as honest as I am I'll share with you my numbers from my first attempt 25/10, now my chest probably won't have hit the reaction ball on every one but I am proud of my first attempt.
 If you are like me and currently can not make 40/40 try anyway record your efforts and keep trying until you improve your numbers.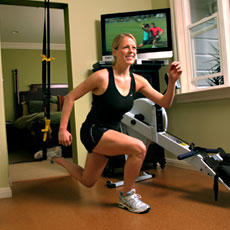 In order to build up my stamina I created this circuit on the TRX including these exercises to help me improve my strength and endurance. I will not post a video until I complete at least 20/20
I completed 4 rounds of this circuit giving myself 20-60 rest in between each exercise.
Jumping curtsy lunges alternating sides 15 reps each side
Atomic pushups 20 or failure
Low Row 6- 8 reps
Low squat jumps 15 reps
Low Row 6-8 reps
Pendulum swings 15 reps
Remember to drink plenty of water through out the workout.
This circuit will help  increase strength, endurance and power
Don't forget to warmup for 5-7 minutes first and always cool down and stretch afterwards