October Edition
Featured Blog
Tips for surviving the Halloween junk food Horrors
So Halloween is here once again and the temptations to eat unhealthy are everywhere. So what can we do to prevent ourselves from over indulging this Halloween?
1. DO NOT buy candy weeks in advance! You know any candy purchased more than 1 week in advance is really for you not the trick or treaters. Halloween is only one day no need to buy candy the second it hits the stores.
2. Buy only the candy that you don't like and hand this out to the ghouls and goblins at your door. If you do not like it you will not be tempted to eat it.
3. Handout Candy alternatives why celebrate Halloween by helping our population become more obese by praising our children with high sugar, high fat rewards. Instead try handing out stickers, tattoos, festive pencils, kids will love them, they will last longer than candy and they will not cost you a trip to the dentist.
4. Or the other option is steer clear of the candy aisle all together, turn out the lights, cuddle up on the couch and enjoy a spooky Halloween movie with fresh air popped popcorn (light on the butter).
If you have children that will be bringing home large sacks full of candy
1. On Halloween night make sure to eat a healthy supper before you get ghoulish, this will help to cut down on the candy cravings and make sure that they have the proper nutrients to keep them going all night long ( not on a sugar high)
2. Go through the candy together, not only are you checking for safety concerns but I want you to help them go through all the candy making 3 piles. Candy I love, Candy I like and Candy I don't like. This is not only helping them choose what they want more but it is breaking that large sack down into more manageable quantities allowing you to have more control of how much and what they eat.
3. Take the "I don't like it" pile and get rid of it, throw it out or donate it to a homeless shelter, or put it in your bowl of candy to handout to other trick or treaters, either way GET RID OF IT!
4. Let them choose a few pieces from the "favorites" pile to eat on Halloween night and save the rest for another time or let them pick 2 pieces out for dessert after they have eaten a healthy supper.
5. Put the "Candy I like" up in a cupboard where it can Rest in Peace until Halloween has past then it can become a once a week treat or can be added to birthday bags for the next Birthday party at your house.
6. Or after your child has picked his/her favorites then ask them if they would like to leave the rest of the candy for the Halloween Fairy. They leave the candy at night on the kitchen table and when they wake up the candy is going but a prize is left instead. Ex. A coupon for a fun family afternoon, 1 trip to a movie theatre, swimming, skating, etc. to reward their healthy choice.
Featured Recipe
Autumn Stuffed Porkchops
Ingredients
4 Lean boneless pork chops
1 green onion
handful of bacon pieces
2 large eggs
1/2 cup of pureed broccoli
3 slices of Whole Wheat toast
1/4 cup shredded cheese
Directions
Insert knife in middle of Pork Chop slice through the middle without piercing the other side making a pocket. Chop Whole wheat bread into small pieces Beat 2 large eggs in bowl add cheese, diced onion, bacon pieces and broccoli puree add bread pieces to bowl mix up until bread is covered in egg mixture. Let sit 2 minutes then stuff pork chops dividing evenly between pork chops cook in oven at 350F for 40 minutes
Number of Servings: 4
Nutritional Info
• Amount Per Serving
• Calories: 307.3
• Total Fat: 13.9 g
• Cholesterol: 166.1 mg
• Sodium: 270.7 mg
• Total Carbs: 16.0 g
• Dietary Fiber: 3.2 g
• Protein: 29.2 g
Featured Exercise
Airplane Pose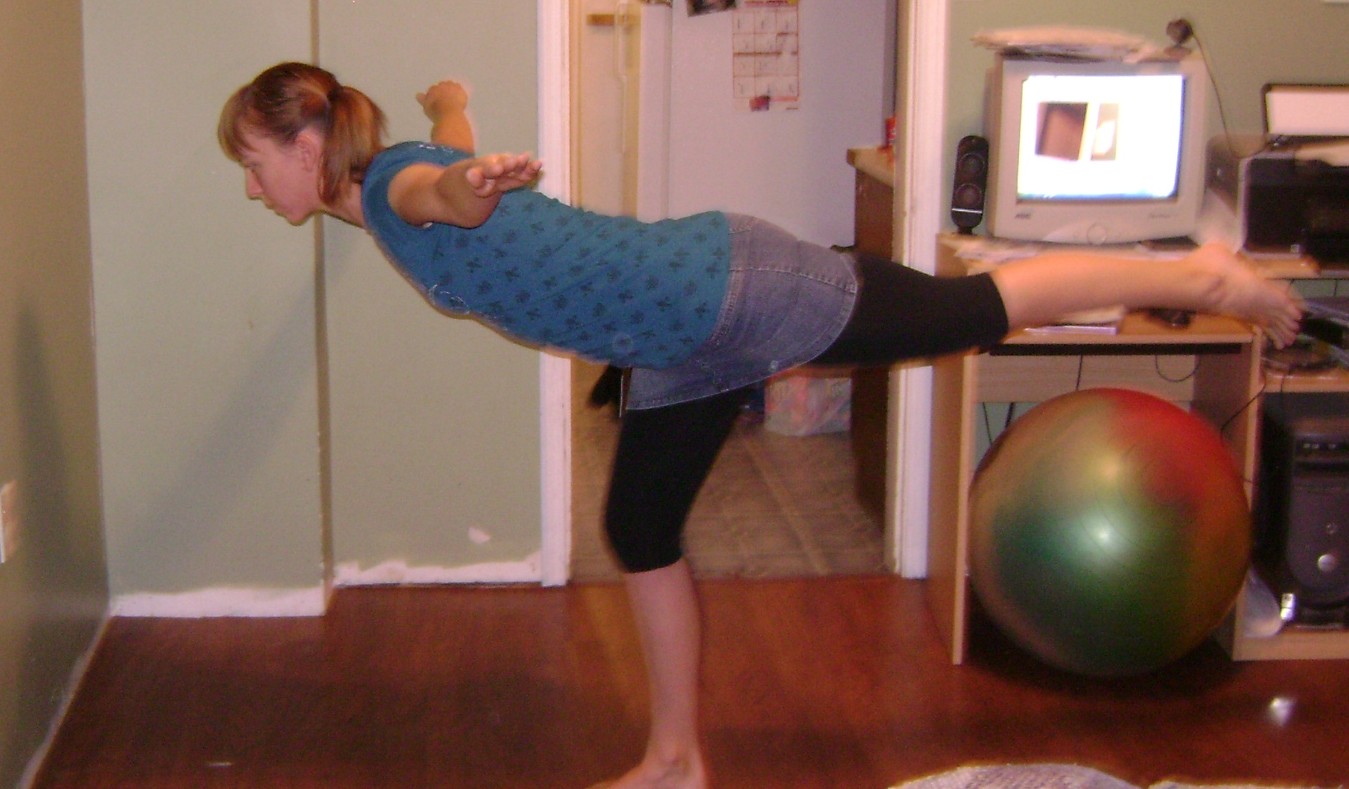 Starting Position
Stand with feet together, arms at sides, and gaze at a spot on the ground about 5 feet ahead for balance.
Action
Lift left foot back, bending forward until left leg and chest are parallel to ground. Extend arms out to sides . Hold for 3 counts. Repeat for all repetitions and switch sides.
Special Instructions
Be sure to keep a flat back (parallel to floor) and concentrate on keeping abs tight.
Muscles Worked: Back, Glutes, Hamstrings